Why not get more out of your dream Mauritius holiday by choosing an all-inclusive hotel or resort? Avoid the stress of carrying money in resort and have all aspects of your holiday paid for prior to arrival.
We've been Indian Ocean specialists for 20 years, so we have access to an impressive number of luxury all-inclusive resorts.
Typically, you'll find the following inclusions from an all-inclusive Mauritius resort:
- Breakfast
- Lunch
- Dinner
- Snacks
- Mini-Bar
- Scheduled Entertainment
- Daytime Activities
- Access to Fitness Facilities
- Kids' & Teens' Clubs
- Specialty Teas & Coffees
- Selected Alcoholic Beverages (usually a wide range of beers, locally-sourced spirits, wines and cocktails - with bottles of wine and other more expensive options payable)
But, that's just the beginning of what to search for in your all-inclusive resort. Whether you're looking for adults-only, family-friendly, best for honeymoons, best for groups, amazing cuisine, or something else - We can use our knowledge to make you the perfect recommendation.
Allow us to find you the perfect Mauritius hotel - Start a Live Chat or place an enquiry today!
Mauritius is home to a wide selection of luxury all-inclusive resorts and hotels leaving you spoilt for choice. Most all-inclusive resorts also have activities included in their packages, meaning you can do as much or as little as you please during your stay. For a holiday filled with variety and excellent cuisine, ask one of our experts to find hotels with an array of restaurants to excite the palate.
The Ravenala Attitude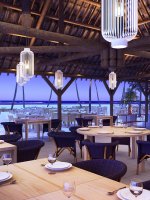 This resort is ideal for families, couples, friends, adventure-seekers and more. With the opportunity to try paddle-boarding, windsurfing, diving, snorkelling, canoeing, or water-skiing, you will always be kept busy.
Shandrani Beachcomber Resort & Spa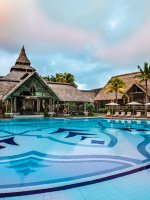 This incredible hotel was the first 5-star fully-inclusive resort in Mauritius and promises guests an unforgettable holiday experience. Featuring a statement pool, four restaurants, a generous selection of room categories, three private beaches and an array of complimentary activities, you can relax, knowing every detail of your stay has been taken care of.
Lean more about the Shandrani Beachcomber Resort & Spa HERE!