Mauritius - The idyllic golf retreat!
Mauritius is an island seemingly made in heaven, a holiday with luxury accommodation, superb multi-ethnic cuisine, all kinds of water- and beach-related activities and, specifically for the golfing enthusiast, a series of spectacular golf courses on which to hone your skills.
One of the most striking is the course at Ile aux Cerfs. Situated on its very own tropical island with a backdrop of green mountains, all 18 holes have a view of the ocean. Designed by golf legend and twice US Masters champion Bernard Langer, it is a course to challenge the most advanced players, while remaining exciting and playable for recreational golfers seaking a holiday abroad.
Mauritius also has two championship golf courses at the Belle Mare Plage Hotel: The Legend and The Links: each of the Legend's 18 holes has distinctive characteristics: superb fairways are laid in the heart of an indigenous forest, culminating in brand new greens, built to USPGA specifications.
Teeing off from the par 3 17th hole, in particular, is a feast for the eyes and a test for the nerves. Its sister course, The Links - designed by Rodney Wright and Peter Allis - opened in November 2002 and sits beneath a clubhouse that faces the setting sun.
Looking for the perfect holiday to combine amazing scenery with a bucket-list golf course? Place an enquiry today and allow one of our Mauritius Experts to start planning your trip!
Recommended hotels in Mauritius for golf courses:
Paradis Beachcomber Golf Resort & Spa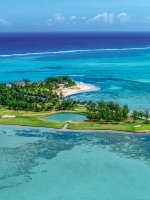 Tee-off on the beautiful Le Morne Peninsula of Mauritius and be presented by extraordinary views at every turn of this resort's championship course. This round of golf promises a majestic backdrop of a mountainous tropical paradise, separated by blue lagoons. For those who are new to golf or are looking to improve their skill, the Paradis has an in-resort Golf Academy, offering personalised training.
Learn more about the Paradis Beachcomber Golf Resort & Spa HERE!
Dinarobin Beachcomber Golf Resort & Spa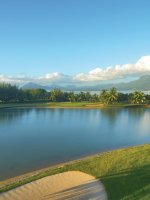 This incredible hotel is neighbour to the Paradis Beachcomber, offering shared access to the championship course, within walking distance of the Dinarobin Golf Suites. Again, a complimentary green fee and golf cart are standard for guests but the Dinarobin offers access to a non-Beachcomber course after your 7th night in resort so you can ensure a change of scenery during your holiday.
Learn more about the Dinarobin Beachcomber Golf Resort & Spa HERE!
Trou Aux Biches Golf Resort & Spa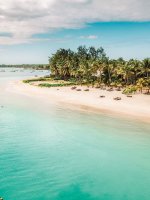 Those staying in the Golf Suite of the Trou Aux Biches resort will receive a complimentary green fee daily, alongside a golf cart for personal usage. The local Mont Choisy Le Golf 18-Hole course features a championship status and 72 par game, perfect for both serious and leisurely golfers…
Learn more about the Trou Aux Biches Golf Resort & Spa HERE!