As the world begins to open up again, the UK Government has introduced "green-list countries" as part of a traffic light system to manage travel based on global COVID-19 infection rates.
We know you're keen to have a holiday to look forward to after a disappointing year, so here's everything you need to know, and how we can help…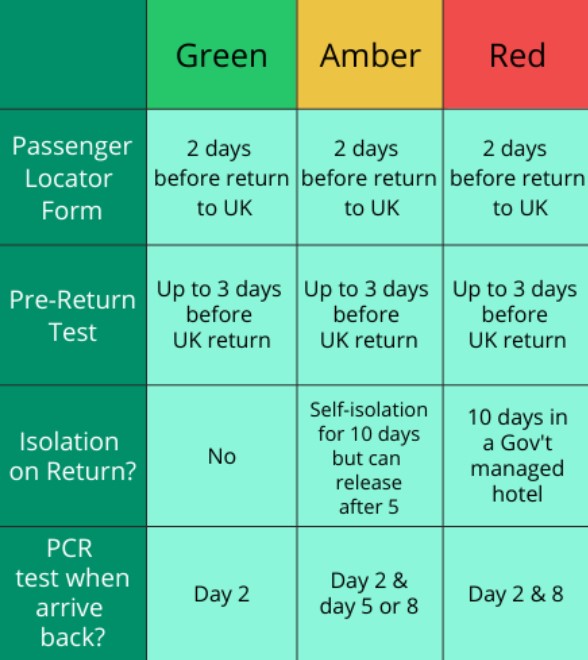 For the official Government webpage with more details, click here!
What countries are on the Government's "green list" right now?
> Iceland
> Singapore
> New Zealand
> Australia
> Portugal (including the Azores and Madeira)
> Gibraltar
How can I book a holiday with full peace of mind?
For holidays departing in the next few weeks, we have a fabulous selection of "green-list" holiday deals; allowing you to travel with confidence that you're visiting a country on the Government's approved list… and at a great price too!
To provide extra assurance, we have sourced 2 of the most comprehensive travel insurance policies for COVID-19.
Not travelling right away? We have access to 100's of highstreet and trade-only travel companies, many of which offering flexible booking conditions. On top of this, we have sourced our own 'Flex Holidays' where you can cancel your holiday FREE for any reason up to 6 weeks before departure, receiving 100% of your money back! For more information, view our Flex Holidays here…
Trust isn't given, it's earned. Here at Holidaysplease, we're with you every step of the journey.
Once I've booked a holiday, how do I book a pre-departure (PCR) test?
Take a look at this helpful website which allows you to filter by which COVID-19 test you require. Please note, your destination may have certain requirements for your test so please check the country's official Government website or speak with your Personal Travel Expert before purchasing.
https://www.covid19-testing.org/travel-testing
For more information on travelling during Coronavirus, feel free to start a Live Chat with one of our Personal Travel Experts or place an enquiry today!
*Flexible booking conditions applicable to Flex Holiday packages are a limited time promotion. Green list destinations above will change according to current government advice. 0 negative TrustPilot reviews during COVID – Data taken from 1st January 2020 to 31st March 2021.